WINNERS OF THE CHECKER FLAG NASCAR HOMEPAGE AWARD
----------------------------------------
To apply for this award your site must pertain to NASCAR racing, send email to MrHugs1@yahoo.com and in subject line place NASCAR AWARD. In body of email include your sites URL, name of site and your return email address.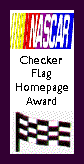 Congratulations and Keep up the Great Work
---
Chuck's Home Page & NASCAR site
Raccyn's Nascar Page

Paradise Web Site Enhancement Server
Paramount Banner Network
---
---
---
---

EMAIL MrHugs Here!!!!
---







Email MrHugs at MrHugs1@yahoo.comor at MrHugs1@mindspring.com